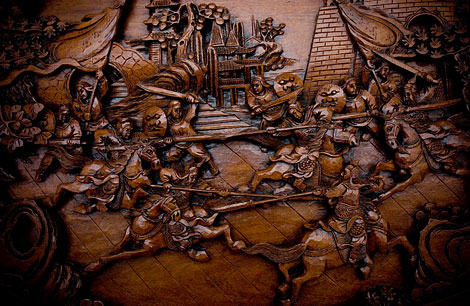 I'm not normally interested in ornate furniture, but when my cousin Kevin sent me an e-mail asking if I would be interested in a Chinese table, I couldn't help but be intrigued.
I couldn't believe that his wife's cousin didn't want the table anymore and wanted to give it away. I knew Jenni would love it since it was very ornate, detailed, and Chinese-themed.
The table and chairs have extremely detailed carving of people and scenery. On the top of the table, a war scene is intricately sculpted with warriors, horses, and the surrounding landscape. All of which is protected by a glass layer, making it seem like I'm looking at a famous piece of art.
When I replied to Kevin that I was interested, I got in contact with his mother-in-law, Mrs Roush, who told me a little bit about its history.
I bought it almost 30 years ago in San Francisco. Josselyn and her sister, Mingy, used to sit at that table and color in their books. I gave it to my niece many years ago when she was setting up in Portland.
Mrs Roush got me connected with her niece, Ileana, and I arranged to pick up the table and the six matching stools. With the help of my parents and their van, we brought it to our home, and it is now the centerpiece in our living room.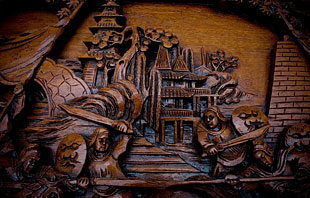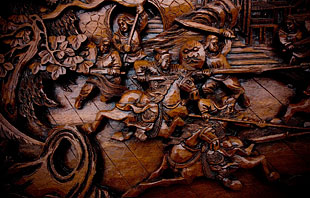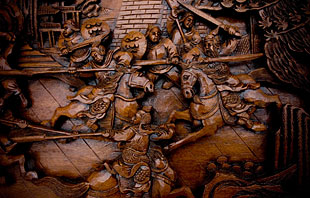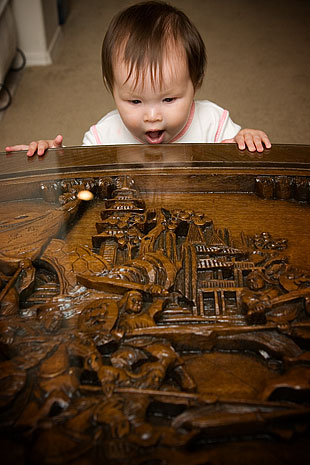 Kadence enjoys trying to pull herself up to see the table top. When she gets taller, she will be able to sit on the stools and play on the table.
Many thanks to Ileana, Mrs Roush, and Kevin for a beautiful table and chairs. They are exquisite!