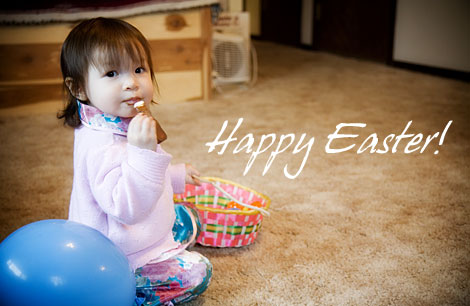 We had a quiet Easter weekend with a Saturday night Easter service at Beaverton Foursquare Church and Easter dinner with Jennilyn's parents. Kadie is an expert egg finder and future fighter pilot.
I got to relax with some video games, a little Left 4 Dead, Braid demo, HAWX demo, and Defense Grid demo. I was pleasantly surprised by Braid, the platformer had great music and innovative puzzles that played homage to other platformers while introducing a few twists.
We both wished we could have attended the Easter Swing dance convention, but thanks to a tip from Jack, the event was broadcast on the internet, so we got to see some great highlights.
That's our Easter. We hope everyone had a safe and fun Easter celebrating the resurrection of the Lord Jesus Christ.