A coworker of mine asked me to be a volunteer photographer for Sustainable Northwest. They hosted a party at the Crystal Ballroom for their 15th anniversary.
I was already going to be in downtown that afternoon to rent a few lenses for Tim and Trina's wedding, so I figured it couldn't hurt to get my photography mode a head start for the weekend.
There was another volunteer photographer there, which I was unaware of when I volunteered. In hindsight, I might not have volunteered if I knew there was a professional photographer volunteering since I felt very redundant knowing he was getting the same shots I was getting, and probably better shots. I admired how well he engaged the crowd and got into the thick of things. I'm sure he got some great shots. I'll have to be courageous and get into the crowd for better shots.
I arrived much earlier than I anticipated, so I got pictures of the VIP event, where local VIPs mingled, as well as the dinner in the main ballroom. I was unable to stay for the entire event–ironically, as I was leaving, they were beginning the announcements and presentations. However, I got a few shots that I found intriguing to share.
Oh yeah, I love the Canon 70-200mm f/2.8IS lens… wish it didn't cost $1,800!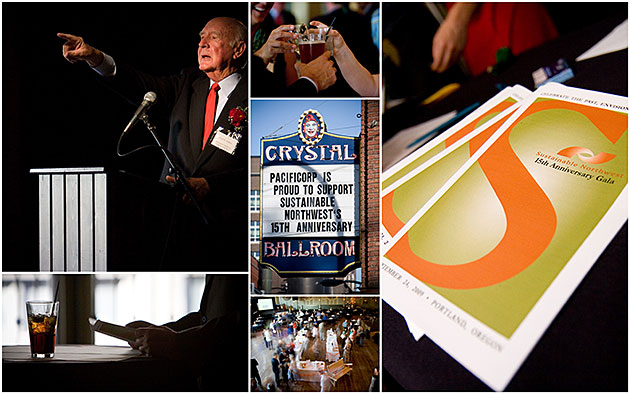 See a few pictures from the Sustainable Northwest's 15th Anniversary Gala »