I'll first admit that when I learned that a Batman game was coming soon, I didn't give it another thought. The screenshot made it look like a simple brawler and nothing much past that. It wasn't until I read that the company had enlisted some of the voice talents from Batman: The Animated Series that I raised an eyebrow. Then I found that the script was from Paul Dini–then I thought, that's gotta be good.

Continue reading "A Knight In Arkham Asylum"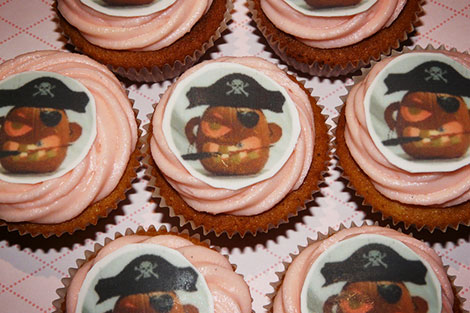 Captain Jack O' Lantern comes back in the form of a cupcake! Our famous pirate pumpkin continues to surprise us–first, making it onto MAKE magazine's blog front page and now as a cupcake decoration by Little Miss Cupcake from Paris. We salute you Captain Jack!
Two years, too fast! I often heard from parents that their best advice was to enjoy their children now because they grow up so fast. Jenni also has a saying, "the days go by slow, but the years go by fast." Here I am looking at my two-year-old daughter and thinking, wow, you did grow up fast!

Continue reading "Happy 2nd Birthday Kadie!"