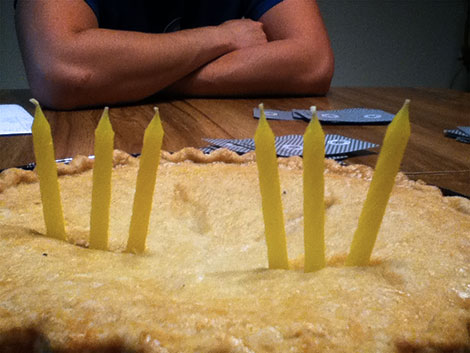 I had a terrific birthday with a snow storm, juicy sous-vide steaks, airsoft assault rifles, great rubber of bridge, and quality time with friends. I'm so thankful that people were able to make it out to my in-laws for a fun day.
I struggled to find something enjoyable and manageable to celebrate my birthday. As much as I didn't want to ask my friends to drive the distance to Battle Ground, it was a combination of reasons that led me there. First, we would have Jenni's family to help with the kids so that Jenni could join in the festivities. Secondly, Jenni's grandma in Longview wanted to see Bruce, so meeting her in Battle Ground would save her a long drive. Third, I wanted to shoot the new airsoft assault rifles Jenni's dad got for Christmas.
As part of the celebration, I sous-vide steaks for the dinner as a treat for everyone. It also fulfilled a wish to have my friend Clark try the sous-vide method. The steaks came out tender and everyone seemed to enjoy them.
A long-time promise fulfilled as well was playing bridge with my brother, Clark, and Jenni's grandma. We had joked it about it for years after we found out that we both liked bridge. We had a great game, Jack and I versus Clark and Gran. Jack and I almost won the rubber, but I misplayed and they took the next bid. Great games.
Clark brought Rock Band Wii, Beatles Edition, so that we could play that with Jenni's dad's projection wall. It was pretty fun, though I was disappointed that despite my music background, I couldn't keep the beat on the drum or hit the notes on the guitar very well. Don't get me started on the vocals. It was still a fun experience and I'll have to try it again sometime.
The airsoft assault rifles were too much fun. I enjoyed aiming and firing in semiautomatic mode. Then it was such a rush to go full auto. I didn't do that too often as I didn't want to use up all the ammo. We shot at soda cans and enjoyed a soft "tink" sound for a good hit.
Best of all, I finally got an Autobot chrome emblem, thanks to Jack. Now our minivan is a Man-Van 😉